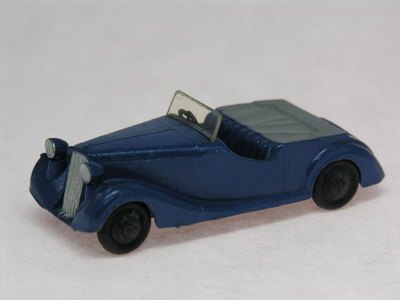 No.38B Sunbeam-Talbot Sports Car

Red/Maroon seats. Light Blue or Blue/ Grey tonneau covers, Yellow/Beige or Green tonneau covers, Maroon/Grey tonneau covers, Light Gree/Green tonneau covers, Brown/Blue tonneau covers.
1940 - 1950
Lacquered bare tinplate base pre-war, post-war in dirty Yellow, later Black. Filled-in steering-wheel spokes 1940 and 1946, open spokes 1941 and from 1947. Produced for export only till 1954/5. Late issue has coloured wheels.